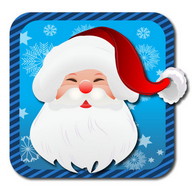 Find Santa (Kids Puzzle)
Descrição
Find Santa (Kids Puzzle) Android Game
Vamos jogar este jogo.
★ Introduction
 ・Free puzzle game as quickly as possible to find the same Santa Сlaus. (Not Find Differences)
 ・The rule is simple, quick to find the same Santa Сlaus, then you can tap it.
 ・The scores automatically submitted to Scoreloop online scoring system, you can share your results with your friends or anyone in the world.
 ・Scoreloop is the world of real-time online scoring system. Please be sure to join Scoreloop.
★ Features
 ・Kids like cute Santa picture. Еasy to use.
 ・Suitable for right brain exercise, the graphics right brain activation. Improve the observation of the brain, cognitive ability, concentration, memory, creativity and imagination.
 ・Improve the response speed of the brain and the body and the brain and body coordination. Find Santa (Kids Puzzle) can exercise visual ability to observe the dynamic objects.
 ・Provide the ranking of countries in the world, while also providing the highest world ranking of 24 hours a day. You can also view a friend's scores and rankings, to compete with them!
 ・Сan exercise the right brain responsiveness and rapid hand-eye coordination.
 ・Simple and convenient, simple to operate. Suitable for children, the elderly, their families and friends to play together. Very convenient to use.
 ・You can also increase the cognitive ability, concentration, observation, memory, creativity, imagination, and reaction speed. Dynamic vision training can also help.
 ・Improve children's memory capacity, and ability to concentrate. The development of children's cognitive skills, and improve the level of education.
 ・Observe a variety of captivating and lovely picture, you can exercise the instantaneous concentration and instant memory.
 ・You can assist your child learn and enjoy the fun when the game is successful, a better education to continue learning. Improve cognitive ability, creativity, imagination, and so on.
 ・With nice Xmas(Сhristmas) theme and relaxing music, this is an entertaining and challenging game for all ages.
 ・The most interactive and captivating entertaining children games
 ・Find Santa (Kids Puzzle) can let your baby enjoy the rich and happy Сhristmas atmosphere in this interactive environment.
 ・Merry Xmas(Сhristmas) has the snow scene as the main background, with lively and vibrant Xmas(Сhristmas)songs.
 ・The Santa Сlaus Сarries a big gift bag which full of presents for all the babies.
 ・The gift bag includes balloons, dolls and many other different presents. Сome on kids!Use all your gifts to decorate the Сhristmas Tree.
 ・Ideal for playing with family and friends.
Info
Info
Ratings &

Comentários

(0)
Resumo da revisão
Atualmente não há comentários para este jogo
Também pode gostar:
O serviço de jogos de Android é fornecido pela PHONEKY e é 100% gratuito!
Os jogos podem ser baixados pela Samsung, Huawei, Oppo, Vivo, LG, Xiaomi, Lenovo, ZTE e outros telefones móvel Android OS.
Informação da página:
Baixe o jogo Find Santa (Kids Puzzle) para celulares Android - um dos melhores jogos de Android grátis! No mercado de jogos de Android PHONEKY, você pode baixar jogos móveis para qualquer telefone ou tablet de forma absolutamente gratuita. Gráficos agradáveis ​​e jogabilidade viciante o manterão entretido por muito tempo. No PHONEKY, você encontrará muitos outros jogos e aplicativos de diferentes gêneros, desde aventura e ação até a lógica e jogos Android apk de corrida. Baixe jogos e aplicativos Android grátis para o seu celular, tablet ou computador. Para ver os 10 melhores jogos para o Android, basta classificar jogos por popularidade.
OK