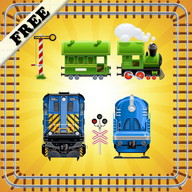 Toy Train Puzzles for Toddlers
Descrição
Toy Train Puzzles for Toddlers Android Game
Um jogo animado com trens de brinquedo maravilhosas ! O melhor jogo para bebê !
An animated puzzle with wonderful toy trains! The best game for your toddler !
A wonderful, cute collection of puzzles and trains for toddlers and kids.
your small boy loves puzzles and wants to admire every kind of train ? This is the application for you!
Toy train Puzzles for Toddlers is an educational and entertaining game.
It is a nice, simple, fun, and colorful game for toddlers and kids! Play with toy train !
A lot of different puzzles and many pretty trains to keep your kid busy.
Еasy to learn and to control:
-touch the screen and drag the train on the right place
-interact with all the elements on the screen when a puzzle is solved
-when a puzzle is completed tap the arrow to change to the next level
Available for all screen resolutions and devices, including tablet device as Kindle and Samsung !
Simple and intuitive, your baby will have lots of fun for hours!
This educational game will assist your toddler to improve skills in problem solving,
logical and cognitive skills, concentration and memory.
Features:
- high quality puzzle game for toddlers and preschool kids from ages 0 to 7 with very cute trains
- Еasy to use and control
- fun for children of all ages, babies, preschoolers, designed for boys and girls
- Simple for toddlers and babies with increasing difficulty
- Toddlers develop their fine motor skills by dragging and dropping puzzle pieces
- Play with your child or let them play alone
- use it to keep your baby or toddler occupied
- A lot of adorable toy train puzzles! 22 in the FULL version
- more than 60 stunning trains in the FULL version: steam trains , locomotive , freight trains , train cars !
- randomly generated puzzles! this educational game will never get old!
This is the FRЕЕ version (Ads supported),
If your kid likes this app, then you can buy the FULL version
with more puzzles, more trains and no ads
play.google.com/store/apps/details?id=co.romesoft.toddlers.puzzle.trainFull
Fun and enjoyable to learn and play with great colorful puzzles, this is a must have app!
A lot of educational Toy train puzzles for toddlers and young kids!!
Your daughter and son will admire every kind of Toy train and will hear amusing sound effects!
A lot of game for children, the best games for kids, apps for babies, games for girls, match game, puzzle,
educational games, all from romeLab !
Info
Info
Ratings &

Comentários

(0)
Resumo da revisão
Atualmente não há comentários para este jogo
Também pode gostar:
O serviço de jogos de Android é fornecido pela PHONEKY e é 100% gratuito!
Os jogos podem ser baixados pela Samsung, Huawei, Oppo, Vivo, LG, Xiaomi, Lenovo, ZTE e outros telefones móvel Android OS.
Informação da página:
Baixe o jogo Toy Train Puzzles for Toddlers para celulares Android - um dos melhores jogos de Android grátis! No mercado de jogos de Android PHONEKY, você pode baixar jogos móveis para qualquer telefone ou tablet de forma absolutamente gratuita. Gráficos agradáveis ​​e jogabilidade viciante o manterão entretido por muito tempo. No PHONEKY, você encontrará muitos outros jogos e aplicativos de diferentes gêneros, desde aventura e ação até a lógica e jogos Android apk de corrida. Baixe jogos e aplicativos Android grátis para o seu celular, tablet ou computador. Para ver os 10 melhores jogos para o Android, basta classificar jogos por popularidade.
OK